About This Author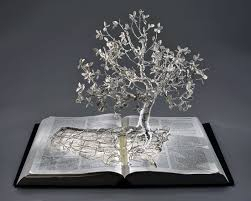 Hi there!
I'm a grandmother, a nursing educator, an avid knitter and an aspiring writer. I created this page for family and friends who expressed interest in reading my writing. It is mostly poetry with a few short stories sprinkled here and there .
The poem on this page is one my Mom favored. The collectible trinket is from a needlework picture of Longfellow's home she completed. Mom loved poetry and was an avid reader. She and my brother,
Rasputin
, inspire me still.
I have a published form modification called the Rondel Grand Modified; it is located here:
http://www.poetrymagnumopus.com/forums/topic/2842-invented-forms-found-only-at-w...
Drop me a note by clicking on the "Contact Me" link above and let me know you stopped to visit.
Happy reading and write on!
Helen's Corner - Book I
#
896711
added
November 6, 2016 at 2:10pm
Restrictions:
None
I stood in line to kiss the bride,
And wish her groom good luck
T'was then I noticed on the side,
A young man, trying to duck.

And somehow he looked lonely and sad
So I stepped up to his side,
He looked so frightened, so i asked
"Aren't you going to kiss the bride?"

He looked at me and then he spoke
In a tone that thrilled my heart
"It's a very funny and amusing joke
For you to take my part."

"You know," he said, "he was my friend
T'was I who brought him here.
And now he gets her in the end,
And I'm to stand and cheer.

I took it on the chin and smiled.
And said that it was grand
I never showed him I was riled,
Because he won her hand.

So here they are, now man and wife
And I'm supposed to kiss the bride,
And wish her a very happy life
With another at her side."

So when he had finished, I nodded my head,
And we slowly left the room,
Looking at him, I smiled and said
"I understand for I love the groom."

And so we went to City Hall
And I very outlay said "Yes",
He looked so handsomely tall.
As the preacher wished us happiness.

So now we stand in line to kiss the blushing
bride,
And happily we think today
When another bride, a husband at her side,
Showed our two hearts the way.



18 years later


Now as I kiss the beautiful bride
I who am her mother,
While my husband stands at my side
He who is her proud father.


© Copyright 2016 tucknits (UN: tucknits at Writing.Com). All rights reserved.
tucknits has granted InkSpot.Com, its affiliates and its syndicates non-exclusive rights to display this work.