Blog Calendar
About This Author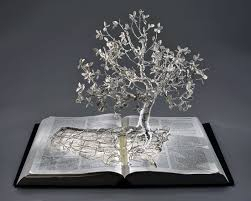 Hi there!
I'm a grandmother, a nursing educator, an avid knitter and an aspiring writer. I created this page for family and friends who expressed interest in reading my writing. It is mostly poetry with a few short stories sprinkled here and there .
The poem on this page is one my Mom favored. The collectible trinket is from a needlework picture of Longfellow's home she completed. Mom loved poetry and was an avid reader. She and my brother,
Rasputin
, inspire me still.
I have a published form modification called the Rondel Grand Modified; it is located here:
http://www.poetrymagnumopus.com/forums/topic/2842-invented-forms-found-only-at-w...
Drop me a note by clicking on the "Contact Me" link above and let me know you stopped to visit.
Happy reading and write on!
Poetic Tides Through Time
#905761 added March 1, 2017 at 5:18pm
Restrictions: None
"The Complete Poems of Emily Dickinson" , edited by Thomas H. Johnson



826


Love reckons by itself - alone-
"As large as I"- relate the Sun
To One who never felt its blaze-
Itself is all the like it has -



Circa 1864, pg. 401





"Collected Poems" by W.H. Auden


Alone


Each lover has a theory of his own
About the difference between the ache
Of being with his love and being alone:

Why what, when dreaming, is dear flesh and bone
That really stirs the senses when awake,
Appears a simulacrum of his own.

Narcissus disbelieves in the unknown;
He cannot join his image in the lake
So long as he assumes he is alone

The child, the waterfall, the fire, the stone,
Are always up to mischief, though and take
The universe for granted as their own.

The elderly, like Proust, are always prone
To think of love as a subjective fake;
The more they love, the more they feel alone.

Whatever view we hold, it must be shown
Why every lover has a wish to make
Some other kind of otherness his own;
Perhaps in fact, we never are alone.



Circa 1941, pg.312




Two poets, one American and one English, have both chronicled the foibles of being alone. Emily literally breathes life into her short verse, radiating the Sun's warmth. Auden's viewpoint is more pragmatic and for me, he tries to cover too much ground, taking into account many viewpoints of aloneness in his poem, though at the same time, this is what drew me to his poem.

One of the most provocative poems on this subject I've ever read was written by Rasputin
and also is a published poem of his. A story from my youth called "By the Waters of Babylon" was a post-apocalyptic tale of the world. I'm not exactly sure why I remember that story anymore, just that it was so hard to imagine a world where no one would hear you or even recognize your existence. Joe's poem sums this up nicely.

These three different perspectives on one word, "alone" are each different and yet each relevant today to our individual selves and the state of the world. It never ceases to amaze me how well-crafted words remain timeless !



"

One Man Alone

"
Poetry is when an emotion has found its thought and the thought has found words.~~Robert Frost
3
Like
•
Comment
•
View 4 comments
© Copyright 2017 tucknits (UN: tucknits at Writing.Com). All rights reserved.
tucknits has granted InkSpot.Com, its affiliates and its syndicates non-exclusive rights to display this work.