About This Author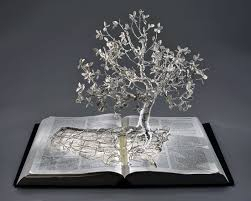 Hi there!
I'm a grandmother, a nursing educator, an avid knitter and an aspiring writer. I created this page for family and friends who expressed interest in reading my writing. It is mostly poetry with a few short stories sprinkled here and there .
The poem on this page is one my Mom favored. The collectible trinket is from a needlework picture of Longfellow's home she completed. Mom loved poetry and was an avid reader. She and my brother,
Rasputin
, inspire me still.
I have a published form modification called the Rondel Grand Modified; it is located here:
http://www.poetrymagnumopus.com/forums/topic/2842-invented-forms-found-only-at-w...
Drop me a note by clicking on the "Contact Me" link above and let me know you stopped to visit.
Happy reading and write on!
Poetic Tides Through Time
#
906697
added
March 31, 2017 at 9:38pm
Restrictions:
None
The gingham dog and the calico cat
Side by side on the table sat;
'Twas had past twelve and (what do you think!)
Nor one nor t'other had slept a wink!
The old Dutch clock and the Chinese plate
Appeared to know as sure the fate
There was going to be a terrible spat.
(I wasn't there: I simply state
What was told to me by the Chinese plate!)

The gingham dog went "Bow-wow-wow!"
And the calico cat replied, "Lee-ow!"
The air was littered, an hour or so,
With bits of gingham and calico,
While the old Dutch clock in the chimney-place
Up with its hands before its face,
For it always dreaded a family row!
(Now mind; I'm only telling you
What the old Dutch clock declares is true!)

The Chinese plate looked very blue,
And wailed, "Oh dear! What shall we do?"
But the gingham dog and the calico cat
Wallowed this way and tumbled that,
Employing every tooth and claw
In the awfullest way you ever saw-
And, oh! how the gingham and calico flew!
(Don't fancy I exaggerate-
I got my news from the Chinese plate!)

Next morning where the two had sat
They found no trace of dog or cat:
And some folks think unto this day
That burglars stole that pair away!
But the truth about the cat and pup
Is this: they ate each other up!
Now what do you really think of that!
(The old Dutch clock it told me so,
And that is how I came to know.)

Eugene Field [1850-1895]

From: The Home Book of Verse by Burton Egbert Stevenson 1917




**************************************




Day 4 - "The Duel"
is a fun poem composed by Eugene Field ( 1850-1895), who often wrote poems of childhood. I love the imagery that is contained in this poem and one can appreciate how a child's imagination could craft this scene. He is a Midwestern poet who contributed greatly to children's poetry literature: https://www.poetryfoundation.org/poems-and-poets/poets/detail/eugene-field. This too takes me to childhood and I "hear' my Mom reciting the first line - it was a favorite of hers.
2
Like
•
Comment
•
View 1 comment
© Copyright 2017 tucknits (UN: tucknits at Writing.Com). All rights reserved.
tucknits has granted InkSpot.Com, its affiliates and its syndicates non-exclusive rights to display this work.