About This Author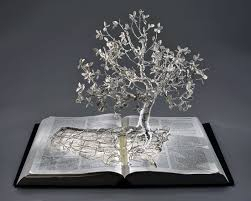 Hi there!
I'm a grandmother, a nursing educator, an avid knitter and an aspiring writer. I created this page for family and friends who expressed interest in reading my writing. It is mostly poetry with a few short stories sprinkled here and there .
The poem on this page is one my Mom favored. The collectible trinket is from a needlework picture of Longfellow's home she completed. Mom loved poetry and was an avid reader. She and my brother,
Rasputin
, inspire me still.
I have a published form modification called the Rondel Grand Modified; it is located here:
http://www.poetrymagnumopus.com/forums/topic/2842-invented-forms-found-only-at-w...
Drop me a note by clicking on the "Contact Me" link above and let me know you stopped to visit.
Happy reading and write on!
Poetic Tides Through Time
#
908060
added
April 2, 2017 at 1:39pm
Restrictions:
None

By the bronze banks of Babylon
rest silver twisted steel beams sheared.
Corrupt jagged tarnished rafters,
where aged red brick buildings reared,
Rusty remnant remains.

Barren, bleak, corroded and charred,
chromatic trees mildewed and bare,
Starkly surround abandoned shops
once standing proud where cobwebs snare
Rusty remnant remains.

Inoxidizable rotting waste
from industrial life visions,
Discolors Babylon's water,
sludge of telium's divisions:
Rusty remnant remains.

My horse steps deep in oozing mud,
trudges slow this corroded plot.
No greens to nibble, brown sticks of
ferrugo; isothermally hot
Rusty remnant remains.

Each human who has ceased to be,
whose whispers echo through ruins rust;
Whose life forms birthed vaporized air.
their lives shorn, dreams vanished to dust,
Rusty remnant remains.

Chestnut steed outruns destruction,
escaping bombed land's rancid waste.
Ferrying earth's lone survivor,
fast from rubiginous soil raced-
Rusty remnant remains.

Pasture lush freshly grows, quick my
horse firmly trots, lightly steps above ;
Emerald ribbons rich he spies
free from fungi's ravaged stain of
Rusty remnant remains.

His frantic pace my horse swift slows
to forage food, sweet green grass mined;
Babylon's umber ashen blot
haunts me, a shadow in my mind:
Rusty remnant remains.

____________________________________________
Entry: April 1, 2017
Prompt: Rust or the color rust
For: Dew Drop Inn Poetry Workshop
Form: Rondel Grand is a form created by Victoria Sutton, aka, Passionspromise.
It is stanzaic, and syllabic, with a minimum of 3 quintains, and no maximum.
The first four lines are 8 syllables, the fifth line is 6 syllables. This poem
follows a Modified Rondel Grand (see note on rhyme pattern).
Rhyme Pattern: ababR cdcdR..etc.
Note: This poem was modified to an abcbR, etc. rhyme pattern.
Commentary
▼
Poetry is when an emotion has found its thought and the thought has found words.~~Robert Frost

2
Like
•
Comment
•
View 1 comment
© Copyright 2017 tucknits (UN: tucknits at Writing.Com). All rights reserved.
tucknits has granted InkSpot.Com, its affiliates and its syndicates non-exclusive rights to display this work.