About This Author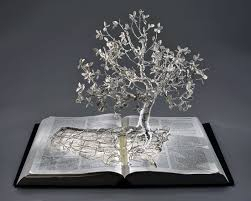 Hi there!
I'm a grandmother, a nursing educator, an avid knitter and an aspiring writer. I created this page for family and friends who expressed interest in reading my writing. It is mostly poetry with a few short stories sprinkled here and there .
The poem on this page is one my Mom favored. The collectible trinket is from a needlework picture of Longfellow's home she completed. Mom loved poetry and was an avid reader. She and my brother,
Rasputin
, inspire me still.
I have a published form modification called the Rondel Grand Modified; it is located here:
http://www.poetrymagnumopus.com/forums/topic/2842-invented-forms-found-only-at-w...
Drop me a note by clicking on the "Contact Me" link above and let me know you stopped to visit.
Happy reading and write on!
Poetic Tides Through Time
#
908069
added
August 24, 2022 at 12:44pm
Restrictions:
None
A flash of silver streaks in sunlight,
An arc of movement with fins.
The angler stands, his boat is rocking;
He tries his best to land him.

The fight is on; the fish in water
Plunges deep, the line he tows.
The angler tries his best to hook him;
This fish is wily, he knows.

Under the rocking boat is motion;
Waves lapping as the fish fights,
Struggling against the hook and taxing
The fisherman with its might.

Playing the line, the patient angler
Sits, waiting for the right time.
Suddenly the rod arcs, bends in half;
He jerks hard, hooks his fish fine.

Satisfied that the fight is over,
He slowly reels in his catch.
Net ready, he leans forward to scoop
His fish – a sizeable match!

Grinning, he settles down in the boat,
And lowers his fishing net.
He grasps his fish, a rock bass it is,
Holds him softly, like a pet.

He unfastens the hook from this fish
Not injuring mouth or gill;
He smiles wide as he holds up his catch -
Five inches won't fit the bill!

As his fish splashes clear, this grandad
Grins and assures his grandkids,
"He's too small to keep, so he is free;
Gosh! What a fighter he is!"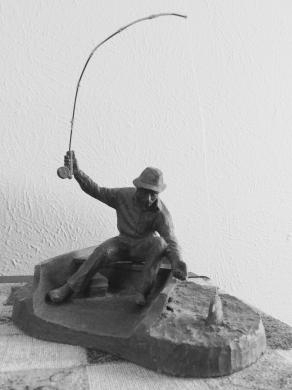 ____________________________________________
Entry: April 2, 2017
Prompt: Carp or any kind of fish, fishing
For: Dew Drop Inn Poetry Workshop
Form: Quatrain stanza (or poem) consisting of four lines. Lines 2 and 4 must rhyme while having a similar number of syllables.
Line Structure: Each quatrain has a 9,7,9,7 syllable structure. The rhyming lines (2 and 4) have 7 syllables.
Rhyme Pattern: aBcB, cDeD, etc.
Commentary
▼
Poetry is when an emotion has found its thought and the thought has found words.~~Robert Frost
3
Like
•
Comment
•
View 3 comments
© Copyright 2022 tucknits (UN: tucknits at Writing.Com). All rights reserved.
tucknits has granted InkSpot.Com, its affiliates and its syndicates non-exclusive rights to display this work.