About This Author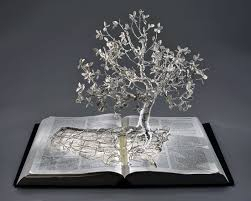 Hi there!
I'm a grandmother, a nursing educator, an avid knitter and an aspiring writer. I created this page for family and friends who expressed interest in reading my writing. It is mostly poetry with a few short stories sprinkled here and there .
The poem on this page is one my Mom favored. The collectible trinket is from a needlework picture of Longfellow's home she completed. Mom loved poetry and was an avid reader. She and my brother,
Rasputin
, inspire me still.
I have a published form modification called the Rondel Grand Modified; it is located here:
http://www.poetrymagnumopus.com/forums/topic/2842-invented-forms-found-only-at-w...
Drop me a note by clicking on the "Contact Me" link above and let me know you stopped to visit.
Happy reading and write on!
Poetic Tides Through Time
#
908347
added
April 10, 2017 at 10:43am
Restrictions:
None
Falling heavy wet flakes of snow
Pelting faster, then drifting slow;
Branches laden with globs of white,
Struggling, remain strongly upright
Bright transitioning snowy rain.

Lighter feathers dropping in sheets,
Touching down, snowing hard not weak;
Wet flakes weigh on bended branches
Bowing white tipped green fir flanches;
Bright transitioning snowy rain.

Wind blasts speedily whip and blow
Swirling snowflakes once softly slow;
Gathering speed, twirling faster,
Forming visual alabaster;
Bright transitioning snowy rain.

White inches heap and plunge from trees;
Snow mist idly floats in the breeze.
Watching safe are we from within,
Happily knitting, staying warm;
Bright transitioning snowy rain.

Clear opaque translucent droplets,
Mixing with flakes, pearly white bits
Of achromatic rain's rumbling;
Steady downward icy tumbling,
Bright transitioning snowy rain.

Light cold sleeting wintry rain falls,
Until white ice frost covers all.


____________________________________________
Entry: April 10, 2017
Prompt: Extreme weather
For: Dew Drop Inn Poetry Workshop
Form: Quintilla is a 16th century Spanish Quintain
form of eight syllable lines. The rhyming scheme
can vary in presentation, but only two consecutive
lines may have the same rhyme pattern.
Modifications: A couplet ending; modified rhyme pattern.
Rhythm: Iambic Tetrameter
Rhyme Pattern: aabbR, ccddR, etc. with end rhyming couplet

Poetry is when an emotion has found its thought and the thought has found words.~~Robert Frost

2
Like
•
Comment
•
View 2 comments
© Copyright 2017 tucknits (UN: tucknits at Writing.Com). All rights reserved.
tucknits has granted InkSpot.Com, its affiliates and its syndicates non-exclusive rights to display this work.