Blog Calendar
About This Author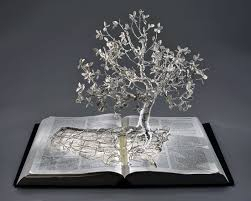 Hi there!
I'm a grandmother, a nursing educator, an avid knitter and an aspiring writer. I created this page for family and friends who expressed interest in reading my writing. It is mostly poetry with a few short stories sprinkled here and there .
The poem on this page is one my Mom favored. The collectible trinket is from a needlework picture of Longfellow's home she completed. Mom loved poetry and was an avid reader. She and my brother,
Rasputin
, inspire me still.
I have a published form modification called the Rondel Grand Modified; it is located here:
http://www.poetrymagnumopus.com/forums/topic/2842-invented-forms-found-only-at-w...
Drop me a note by clicking on the "Contact Me" link above and let me know you stopped to visit.
Happy reading and write on!
Poetic Tides Through Time
#909904 added May 1, 2017 at 3:48pm
Restrictions: None
A special place to hide was my grandfather's eyrie tree;
Its limb curved into a seat where I settled in this very tree.

And I stayed there for hours reading my favorite book,
which captivated me when hidden in his fairy tree.

Though it was one among many different garden drupe
bowers shielding me on his farm; my special airy tree

Bore round fleshy yield of yellow and red, sweet and sour
O'er an arbor of grapes shaded by my merry berry tree.

This garden of blooming trees where bees tarry cocoons me;
Honey cones drip blossoms' nectar from Pappy's cherry tree.

____________________________________________
Entry: April 28, 2017
Prompt: A favorite specific tree
For: Dew Drop Inn Poetry Workshop
Form: A Ghazal is a poem that is made up like an odd numbered chain of couplets, where each couplet is an independent poem. It should be natural to put a comma at the end of the first line. The Ghazal has a refrain of one to three words that repeat, and an inline rhyme that preceedes the refrain. Lines 1 and 2, then every second line, has this refrain and inline rhyme, and the last couplet should refer to the authors pen-name.
Syllabic Pattern: 13-16
Rhyme Pattern: The rhyming scheme is AA bA cA dA eA etc.

Poetry is when an emotion has found its thought and the thought has found words.~~Robert Frost

1
Like
•
Comment
•
View 2 comments
© Copyright 2017 tucknits (UN: tucknits at Writing.Com). All rights reserved.
tucknits has granted InkSpot.Com, its affiliates and its syndicates non-exclusive rights to display this work.