About This Author
The majority of my writing has a twist (or multiple twists) and much of it is philosophical, mysterious, supernatural, or some combination of the aforementioned. My dream job would be writing for a television series, while simultaneously working on a movie screenplay! NEWS: I have just been promoted to Rising Star by
Kat
, my sponsor!
Granny Apple
Old Granny Appleton lived by herself
In the house where her parents had wed.
The youngest child in a family of twelve,
She's still living, the rest are long dead.

Four of her children raised kids of their own,
Then those kids started families, too.
Visits from kinfolk, she's never alone
And her home often feels like a zoo.

She danced at her hundredth birthday soirée,
While her children complained of their pains.
Most of us "young'uns" would have hell to pay,
Yet our Granny just hurts when it rains.

Three more years pass and she still isn't frail,
Picking veggies and fruit every day.
Sadly, her vision has started to fail.
When Doc visits, he's sent on his way.

Doc is her grandson, but she doesn't care
For doctors, no matter their reasons.
She stands in her yard, throwing corn and pears
Or whatever the crop that's in season.

He endured a week, bombarded with fruit,
Then Doc tried his hand at surrender.
Granny was ready - a slingshot in hand,
A basket of apples beside her.

One perfect shot and the battle was won,
Granny laughed at her mother's cliché -
The meaning twisted - her own private pun:
"An apple a day keeps the doctor away."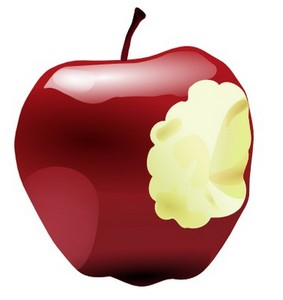 © Copyright 2009 Xander Riley (UN: xanderriley at Writing.Com). All rights reserved.
Xander Riley has granted InkSpot.Com, its affiliates and syndicates non-exclusive rights to display this work.