About This Author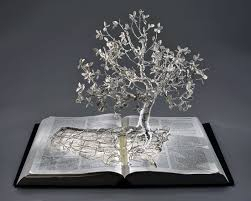 Hi there!
I'm a grandmother, a nursing educator, an avid knitter and an aspiring writer. I created this page for family and friends who expressed interest in reading my writing. It is mostly poetry with a few short stories sprinkled here and there .
The poem on this page is one my Mom favored. The collectible trinket is from a needlework picture of Longfellow's home she completed. Mom loved poetry and was an avid reader. She and my brother,
Rasputin
, inspire me still.
I have a published form modification called the Rondel Grand Modified; it is located here:
http://www.poetrymagnumopus.com/forums/topic/2842-invented-forms-found-only-at-w...
Drop me a note by clicking on the "Contact Me" link above and let me know you stopped to visit.
Happy reading and write on!
Word Flight


My words erase and scrape,
Visions of insight.
Let all words take flight;
Scatter aloft, light.

I paint a word landscape,
Visions of insight.
Let all words take flight
In colors tonight.

Letters fall and escape
Visions of insight.
Let all words take flight;
Leave my blank page white.

Magic muse sculpts to shape
Visions of insight.
Let all words take flight;
Dance high, muse delight.

tuc 12/2/2017
____________________________________________
Entry: December 1, 2017
For: The Poet's Place Cafe
Form:The Seicinque is a quatrain (four-line stanza) form invented by Linda Pentney. The syllabic structure is 6, 5, 5, and 5 for each stanza, the second and third lines are repeated in each stanza, and the fourth lines of each stanza rhyme with the second lines, as described in the following link: http://www.poetrybase.info/forms/005/505.shtml .
A syllabic quatrain with syllable counts per line of 6, 5, 5, and 5. Its rhyme scheme is abcb. When used for multiple stanzas, the middle two lines become refrains, so that it becomes aBCb dBCb eBCb, etc.
Syllabic Pattern: 6-5-5-5
Rhyme Pattern: abcb, aBCb, dBCd, eBCb

© Copyright 2017 tucknits (tucknits at Writing.Com). All rights reserved.
InkSpot.Com, its affiliates and syndicates have been granted non-exclusive rights to display this work.