About This Author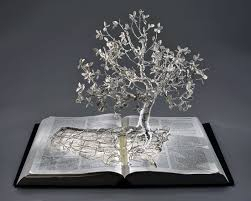 Hi there!
I'm a grandmother, a nursing educator, an avid knitter and an aspiring writer. I created this page for family and friends who expressed interest in reading my writing. It is mostly poetry with a few short stories sprinkled here and there .
The poem on this page is one my Mom favored. The collectible trinket is from a needlework picture of Longfellow's home she completed. Mom loved poetry and was an avid reader. She and my brother,
Rasputin
, inspire me still.
I have a published form modification called the Rondel Grand Modified; it is located here:
http://www.poetrymagnumopus.com/forums/topic/2842-invented-forms-found-only-at-w...
Drop me a note by clicking on the "Contact Me" link above and let me know you stopped to visit.
Happy reading and write on!
Colors of Winter's Solstice
I watch darker clouds roll across sky's ease;
Sun bounces through bare branches of the trees.
Creatures hide as gray limbs sway in cold breeze;
The snow is on its way, cold rolling freeze.

Waiting to see first snowflakes flutter down;
As the sunset glows on sky's evening gown;
Violet sash drapes across her gray frown
As dark clouds yield to snow's glistening crown.

Skiers quiver, admire sight of falling snow;
Riding high up the mountain they'll go.
To chase the thrill of rushing down below,
They strap on skis for roles in winter's show.

Solstice colors of white and purple's gray
Paint the sky with ever deepening sway.
Portending winter's change from night to day,
Paving a path for retreating sun's ray.

____________________________________________
Entry: December 4, 2017
For: The Poet's Place Cafe
Form: Iambic pentameter
Syllabic Pattern: 10
Rhyme Pattern: aaaa, bbbb,cccc,dddd,etc.

© Copyright 2017 tucknits (tucknits at Writing.Com). All rights reserved.
InkSpot.Com, its affiliates and syndicates have been granted non-exclusive rights to display this work.